How To Choose An HR Outsourcing Company
(posted: May 30th, 2014)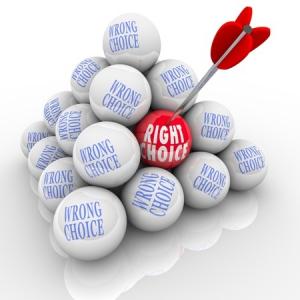 You've realized that you need to hire an HR Consultant, or to outsource some or all of your human resources tasks. Now, how do you choose the right HR firm, or consultant?
HR Firm: Large vs Small
Do you want a large HR firm or a smaller HR company or consultancy? There are advantages and disadvantages to both:
Large firms have extensive resources and have credibility based on their name. They are also expensive, and you may not get the kind of personal attention you would prefer.
Smaller firms will generally be more cost-effective, give you personalized attention, be more interested in building relationships with clients, and be much more likely to customized their services to your needs. However, they also have fewer resources.
Network For Recommendations
Ask around and get suggestions from people you know, businesses in your network that are similar to yours, and even from your hairdresser. You can also do an internet search for local HR firms.
Once you've got several possibilities, it's time to look carefully at what each offers and how they work. It is a good idea to make a list of questions and concerns that you want to cover, somewhat like developing interview questions.
What to Look For
Some questions to ask your potential HR providers include:
What is their overall experience? Including the company founders, partners and consultants.
Do they have experience with companies similar to yours?
Flexibility: Do they customize their solutions at all?
Who will work on your project? Can you speak with them?
How do they work & what should you expect, including first steps?
What is the pricing structure? This should be clear, so that you know exactly what to expect, with no hidden charges.
How do they do status updates? Depending on the project, you'll want regular updates on how it is progressing.
Do they provide references?
You may have other concerns that you'd like to address before you make a decision, but this basic list is a great place to start.
Evaluating The Initial Conversation
Here are a few questions for you to think about during and after your conversation with an HR outsourcing company:
How, and how well, did the company representative communicate with you?
Did they give you multiple ways to get in touch with them, including a direct phone line?
Were they paying close attention to you, asking clarifying questions, and generally making you feel like your concerns would be addressed?
If they will be working on site at your location, do you feel that they will be a fit for your culture?
Did they try to shoehorn you into an existing plan, or convince you that you need more services than you really do?
Working with an HR outsourcing provider can be enormously beneficial to your for your company. It can give you the HR assistance you need, tailored to your size and industry, while allowing you to keep your budget in control. The key to choosing the right HR partner for your company is to find one who works to build a relationship with you, fits with your company's culture and can provide flexible services that will scale with your business.
Join The Discussion
Do you have some additional tips for finding the right HR partner?
What are your experiences, good or bad, with identifying an HR firm to work with?