CA Leave Laws: Taking Time Off for School or Child Care Issues
(posted: February 9th, 2016)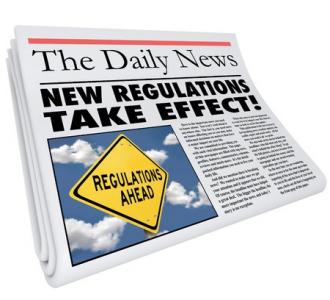 There are a couple of California leave laws on the books that you may not be familiar with.
The two that we address below deal with taking time off for children's school issues or issues with child care. California employers should review these laws and make sure that your managers and supervisors have a clear understanding of them.
These laws apply to employers with 25 or more employees working at one location. Not working for the same employer, but working at the same location.
For some time now, employees in California have been legally protected for requesting time off to attend to child-related issues, but recently legislation expanded the reasons for which an employee can take time off. Although it used to be limited to school or child care activities, it is now expanded to include school or child care enrollment and school or child care emergencies.
School and Child Care Activities Leave
California's Family School Partnership Act requires some employers to allow employees to take job protected time off to attend or participate in school and child care activities, enrollment and emergencies (Labor Code section 230.8). As noted above, the law only applies to employers with 25 or more employees working at the same location.
Employees Who Qualify
Employees who are the "parents" of a child of kindergarten age through grade 12 or with a licensed child care provider are eligible for this leave.
But note that the term "parent" doesn't just mean the child's mother or father. With this law, "parent" is defined as including guardians, grandparents, stepparents, foster parents or persons standing in loco parentis.
Reason Employees Can Take Leave
Covered employees can take time off to:
Find, enroll or re-enroll a child in a school or with a licensed child care provider
Participate in activities of the school or licensed child care provider
Address a child care provider or school emergency.
Amount of Leave Allowed
Employees who qualify may take up to 40 hours of total time off each year. Note that it's not 40 hours for each type of activity, but 40 hours total.
Employers can limit time off to eight hours in any calendar month unless the leave is for a school or child care emergency. There is no eight hour per calendar month limitation on emergency usage.
Providing Notice
The employee must give reasonable advance notice of the planned absence and must provide, if you require it, documentation that he or she was engaged in the child related activities. Acceptable documentation means whatever written verification of participation that the school or licensed child care provider deems appropriate and reasonable.
If there is a child care provider or school emergency, the employee only needs to give notice to the employer because these are emergency situations that can't be predicted or planned for; there is no reasonableness requirement.
Events That Are Considered "Emergencies"
A child care provider or school "emergency" means that the employee's child cannot remain in a school or with a child care provider for one of the following reasons:
The school or child care provider requests that the child be picked up, or has an attendance policy (excluding planned holidays) prohibiting the child from attending, or requiring that the child be picked up from the school or child care provider
Behavioral or discipline problems
Closure or unexpected unavailability of the school or child care provider, excluding planned holidays
A natural disaster, including, but not limited to, fire, earthquake or flood
Requiring the Use of Accrued Vacation or PTO
Employers can require employees to use existing vacation, PTO or other personal leave first, unless prohibited by a collective bargaining agreement. If the employee doesn't have any accrued time off available, they still can take job-protected unpaid time off.
When You Employ Both Parents
If both parents work for the same employer at the same worksite, you can limit the absence to the parent who first gave notice. You are not required to grant the other parent the same time off, but you can choose to approve such time off.
Penalties For Noncompliance
Any employee who is discharged, threatened with discharge, demoted, suspended or in any other manner discriminated against in terms and conditions of employment by his or her employer for using this protected leave is entitled to reinstatement and reimbursement for lost wages and work benefits caused by the acts of the employer.
In some circumstances, an employer can also be subject to a civil penalty in an amount equal to three times the amount of the employee's lost wages and work benefits.
Note that this law does not have posting requirements.
School Suspension Leave
Sometimes, an employee may need to appear at a child's or ward's school in connection with disciplinary action by the school. For example, the California Education Code allows school districts to require parents to attend class when the student returns to school after a suspension.
All employers, regardless of size, are prohibited from discharging or discriminating against an employee who takes time off to appear at his or her child's or ward's school in connection with a suspension if the employee gives reasonable notice to the employer of the request to appear at the school (Labor Code section 230.7). This time off can be paid or unpaid.
As always, if you have questions or concerns about these laws, please Contact Us!