ACA Transitional Policy Extended


(posted: Apr, 2018)

Small businesses may be able to keep their health plans under the ACA through 2019 without worrying about compliance issues.
Interns: Paid or Unpaid?


(posted: Apr, 2018)

Internships offer great benefits to young people and to companies, but you must be certain that you are meeting the guidelines of the primary beneficiary test in order to not pay your interns.
2018 Minimum Wage Chart - Downloadable PDF
(posted: December 4th, 2017)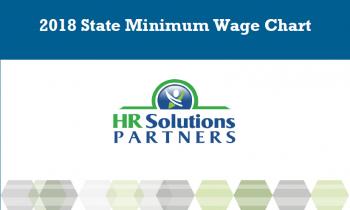 Download a PDF of the 2018 State Minimum Wage Chart here.
You know it's important to be in compliance and pay your employees the correct minimum wage, so we're providing you with a downloadble copy of our minimum wage chart to refer to in 2018.
Twenty states have new minimum wages going into effect in 2018. Some become effective in January, some in July. Some states have different minimum wages based on a company's number of employees, company income, and even, in the case of Nevada, whether a company offers health benefits or not.
Also, keep in mind that this chart does not include the various minimum wages that are specific to cities and counties. Generally speaking, the wage that is more favorable to your employees is the one you must pay, but do check with your state's Department of Labor, your employment lawyer, or "Contact Us"!</contact/>